You've been together with your significant other for a while now and it's gotten to the point where you want to take things to the next level. Proposing to her is probably one of the most exciting moments of your life, since you'll feel joy, excitement, love and everything in between all at the same time. Proposing to her may come natural, but what is a unique and creative way to do it?
1.

When Riding a Roller Coaster
This one sounds very exciting and it is. To make it work you need a few of your friends to ride in the same cart as you and her. Each one needs to have a card which contains words that make up the big question. You need to be quite precise with this one, since all of you need to raise you cards seconds before those hidden cameras take a picture of you guys. Your lover won't know anything until she looks at the photo at the end of the ride.
2.

Write It In The Sky
This is a unique way of asking her to marry you and it's quite the show-stopper. If you want this to work, you need to make sure she loves attention and that both of you are okay with everyone in a three-mile radius taking part in it as spectators. To take it to the next level, you can also have some musicians playing guitar and even the violin nearby. It'll definitely bring out tears of joy in her eyes.
3.

Treasure Hunt With Your Friends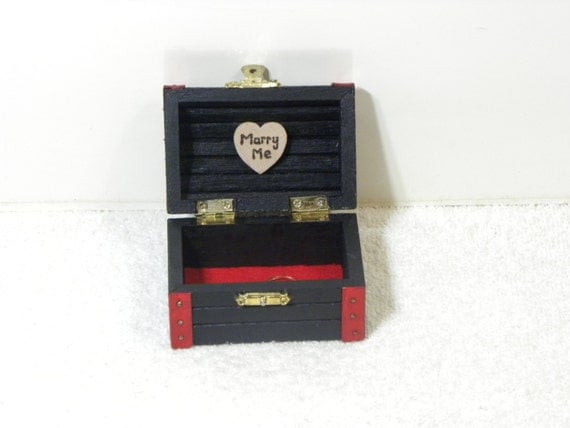 Now this is a really great way to pop the question. The way it works is that you pass out the first clue, but remember that clues don't need to be that difficult. So when your significant other comes to the last place, you and your friends should be there waiting for her. Of course, you should hold the ring out in your hand and be ready to propose.
4.

Take a Boat Ride
Going on a boat ride is a great way of popping the question, especially if you'll be on a beautiful and romantic lake. Bring her to the middle of it and then pretend the boat got stuck. Act confused for a few minutes and then tell her: For so long I've felt stranded, and lost at sea, but with you in my life, I finally have everything I could ever hope to find. You are my beacon. Will you marry me?
5.

Petals Of Her Favorite Flowers
Take some petals of her favorite flowers and lace them in her apartment or house spelling the big question. Your lover will definitely love this and will instantly run to hug and kiss you. Just make sure you have a bottle of her favorite champagne in the chiller to celebrate!